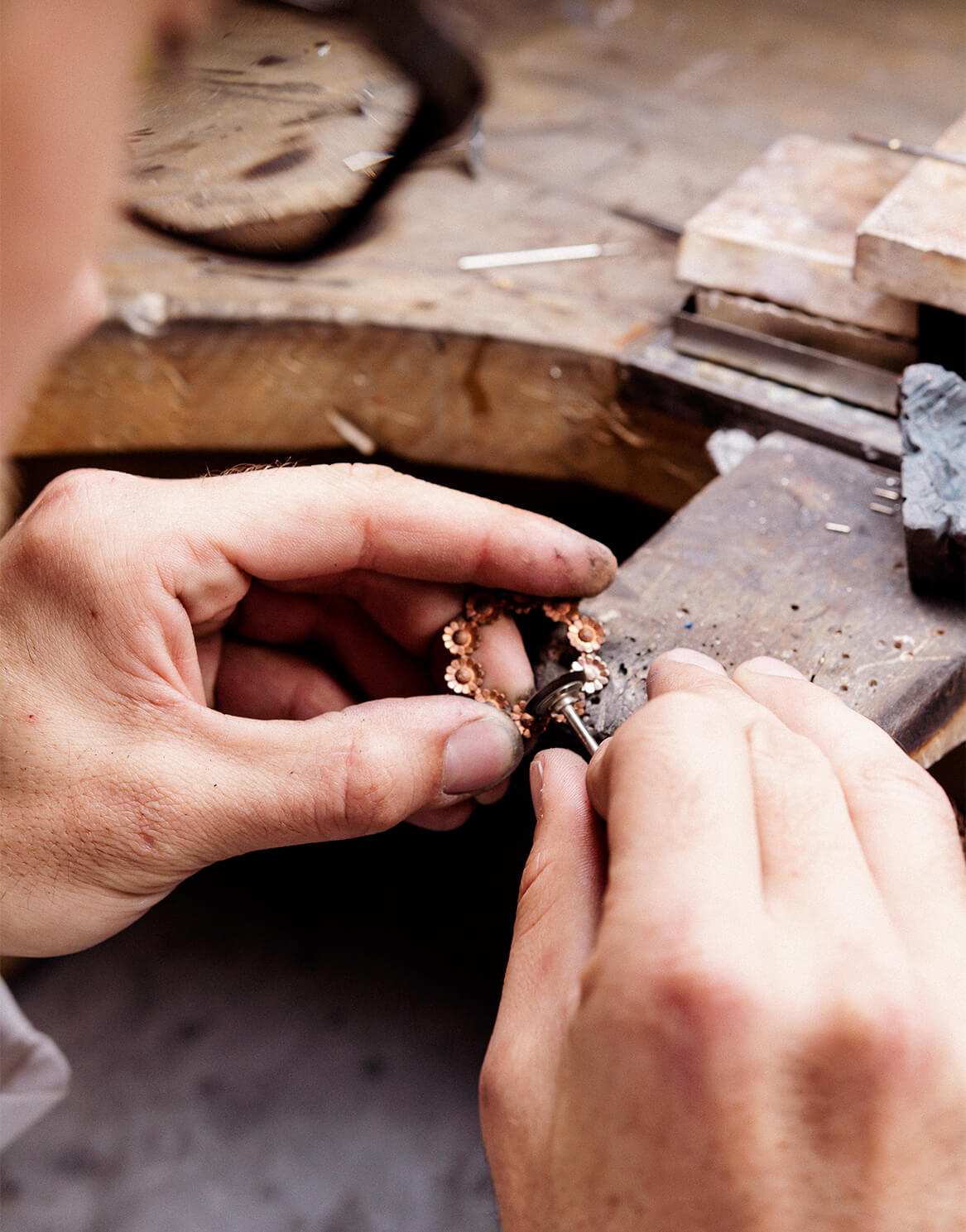 All about our manufacturing process: we take you behind the scenes...
The story of Les Trésors de Jasmine begins in Geneva, Switzerland, but it is actually everywhere in Europe that it takes shape every day.

Les Trésors de Jasmine is not just a story of jewelry, it's the story of an entire team, of our partner craftsmen, of a know-how made in Europe, of a heritage transmitted by passion and by love.

Passion will always remain the answer, it is the fire we need to live, to live through our creations, it is the very essence that lights up our souls.
It is at the heart of 8 workshops located in Europe that creation is driven by passion.
Each of these workshops has its know-how ranging from welding, gilding and cutting of spare parts.
A little audacity and above all a lot of love
We become what we think, we feel what we attract, we create what we imagine. A lot has happened since the creation of Les Trésors de Jasmine, so we wanted to capture the very essence of our brand, redefine the values ​​that are unique to us, those that motivate and inspire us. We hold these values ​​not only from our teams but also from our partner workshops. We would like to take advantage of these lines to thank and applaud all those people who make our company live and with whom we are so proud to share all these values ​​and to live every day through these common passions. We are proud to take you with us behind the scenes of our production, a great opportunity also to reward the work of each person behind each of the manufacturing processes.
We will begin this chapter with the origin of jewelry. Each country has its own know-how and its own resources. This is why our jewels can find their origins in different
country. Here we are committed to contributing as much
as possible to Made In Europe. However, not all European countries have the raw materials and know-how that other countries can. The materials making up your small jewels can therefore come from countries such as Germany, Spain, France, Ireland or Poland. Other processes can also be outsourced to Thailand and India. Indirectly, our purchases from these countries outside the European Union contribute to changing working conditions in these producing countries.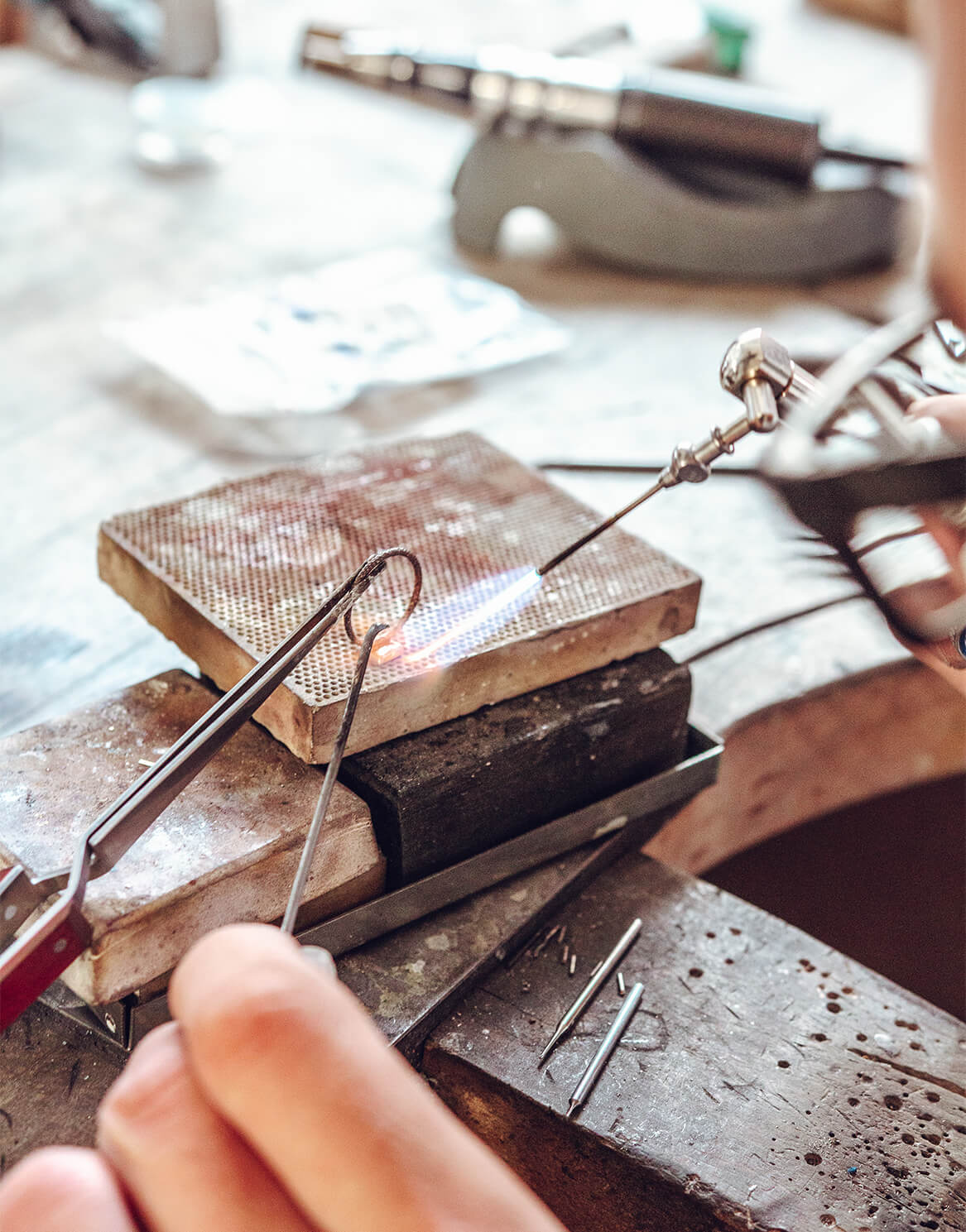 discover our manufacturing steps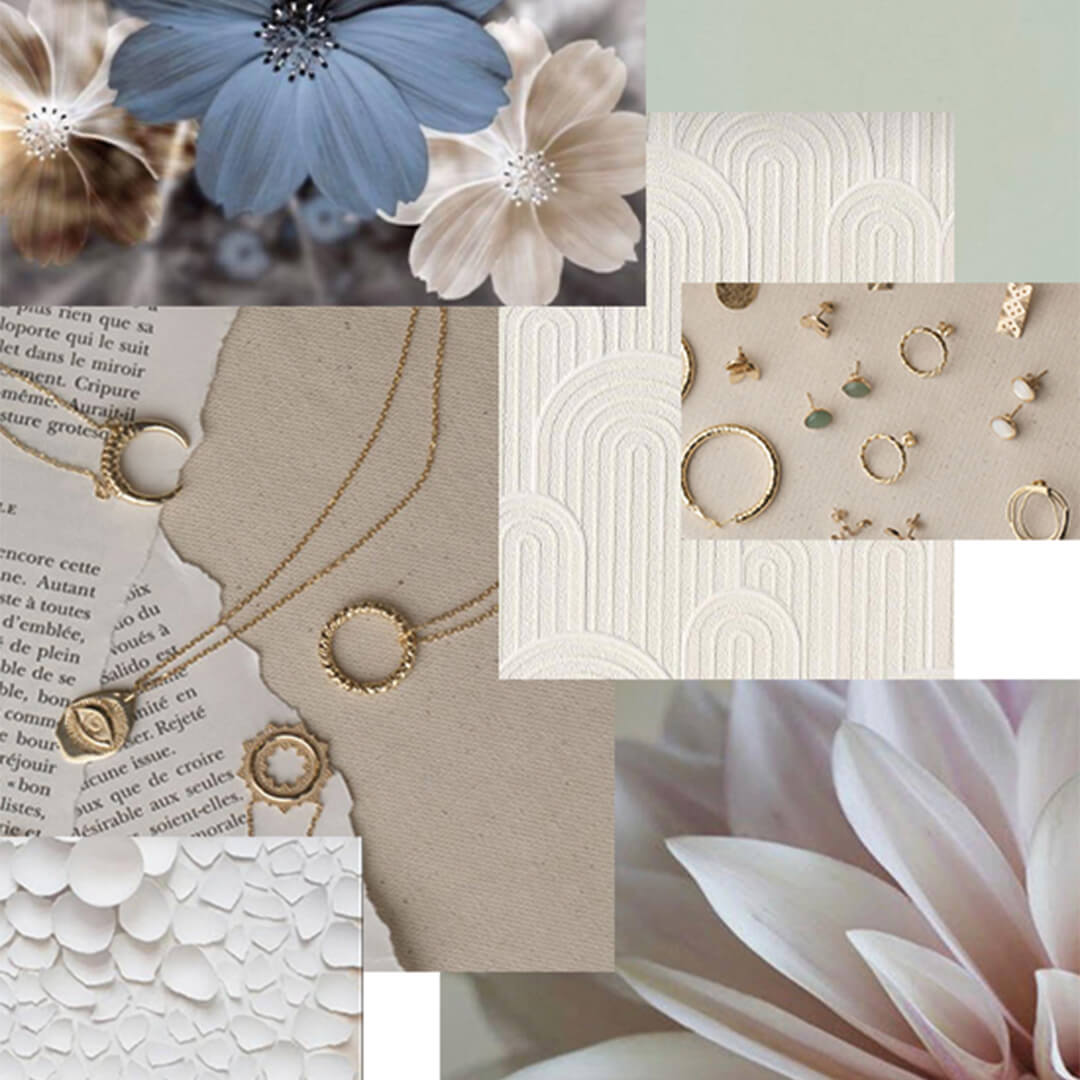 Step 1
The Moodboard
It all starts with the moodboard: a drawing, inspiration drawn during a trip, inspiration from nature itself, the graphics of a fashion trend. It is during this stage that we assemble, undo, and redo all our ideas. This step allows us to give life to our ideas and concepts and to transmit the very essence of our collections to our internal teams but also to our partner workshops.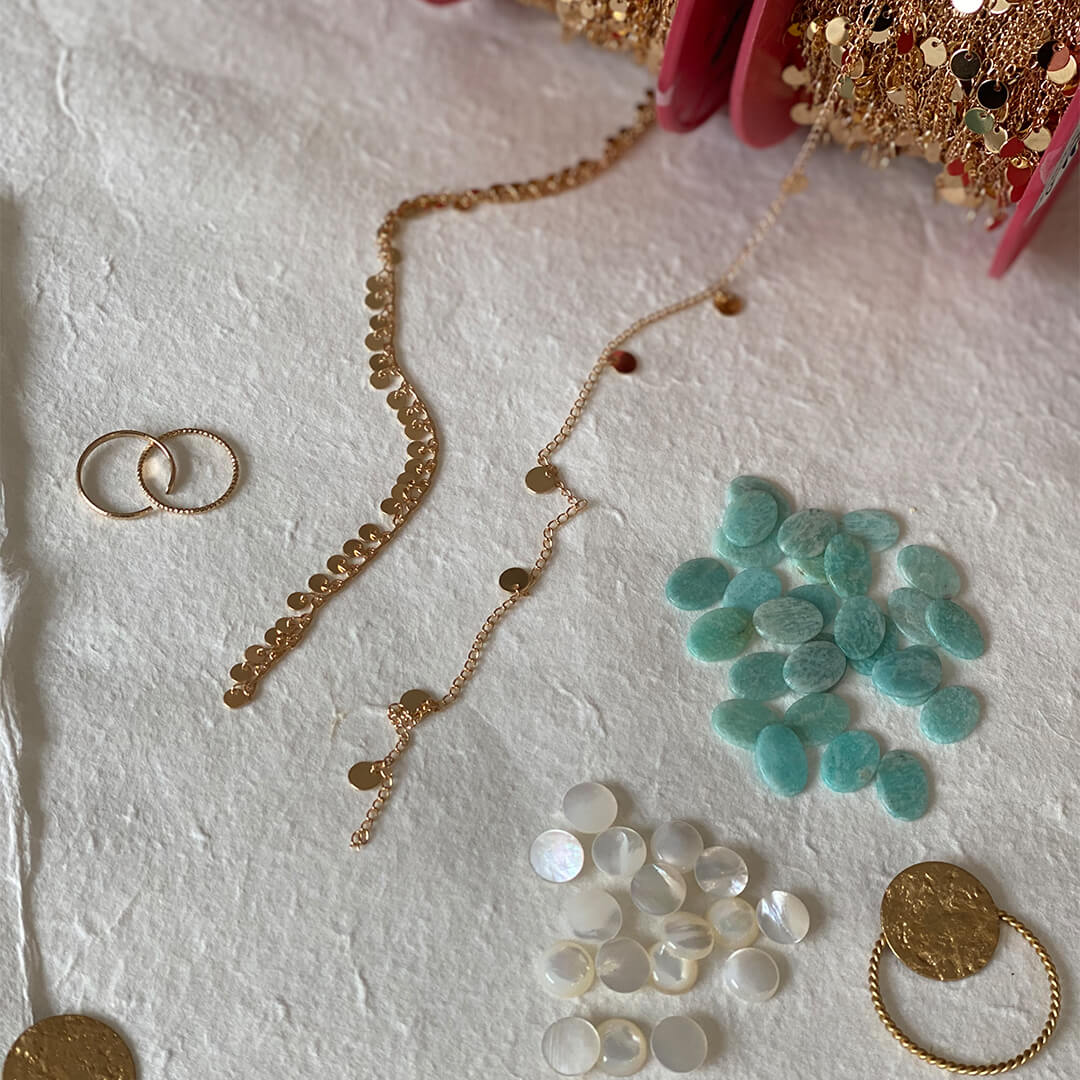 2nd step
Sourcing & cutting
This is where the first choices related to the manufacturing process come into play. As soon as the moodboard has been validated, the sourcing of raw materials, chains, brass parts and/or brass cutting according to our sketches begins with our partner workshops. It is during this stage that the first prototypes are born, which are assembled and disassembled until the long-awaited result is obtained.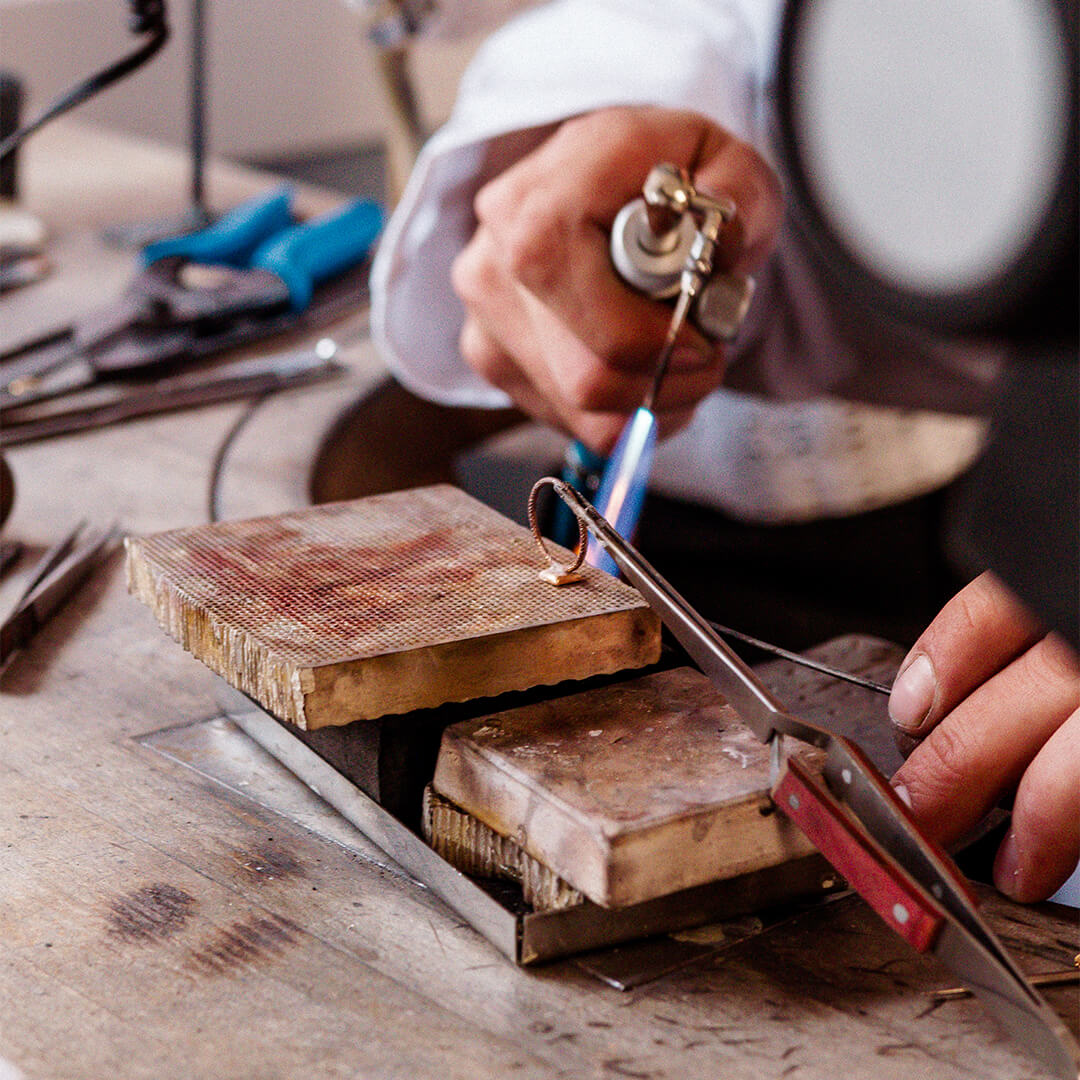 step 3
Welding & polishing
As soon as the prototypes are validated, our partner workshops get down to mass production of the jewelry. Our welding workshop carries out the welding, deburring and polishing by hand of each of the jewels one by one. Some parts are also polished one by one. It's a real job that requires time, precision and passion.
step 4
gilding
It is during this stage that our jewels are adorned with their most beautiful golden dress, a gilding carried out in one of our specialized partner workshops in France. It is at the heart of this workshop that each jewel is hung on a thread before being immersed in successive baths which will cover them with a layer of gold. Our partner workshop carries out a 3 micron plating within the meaning of French legislation.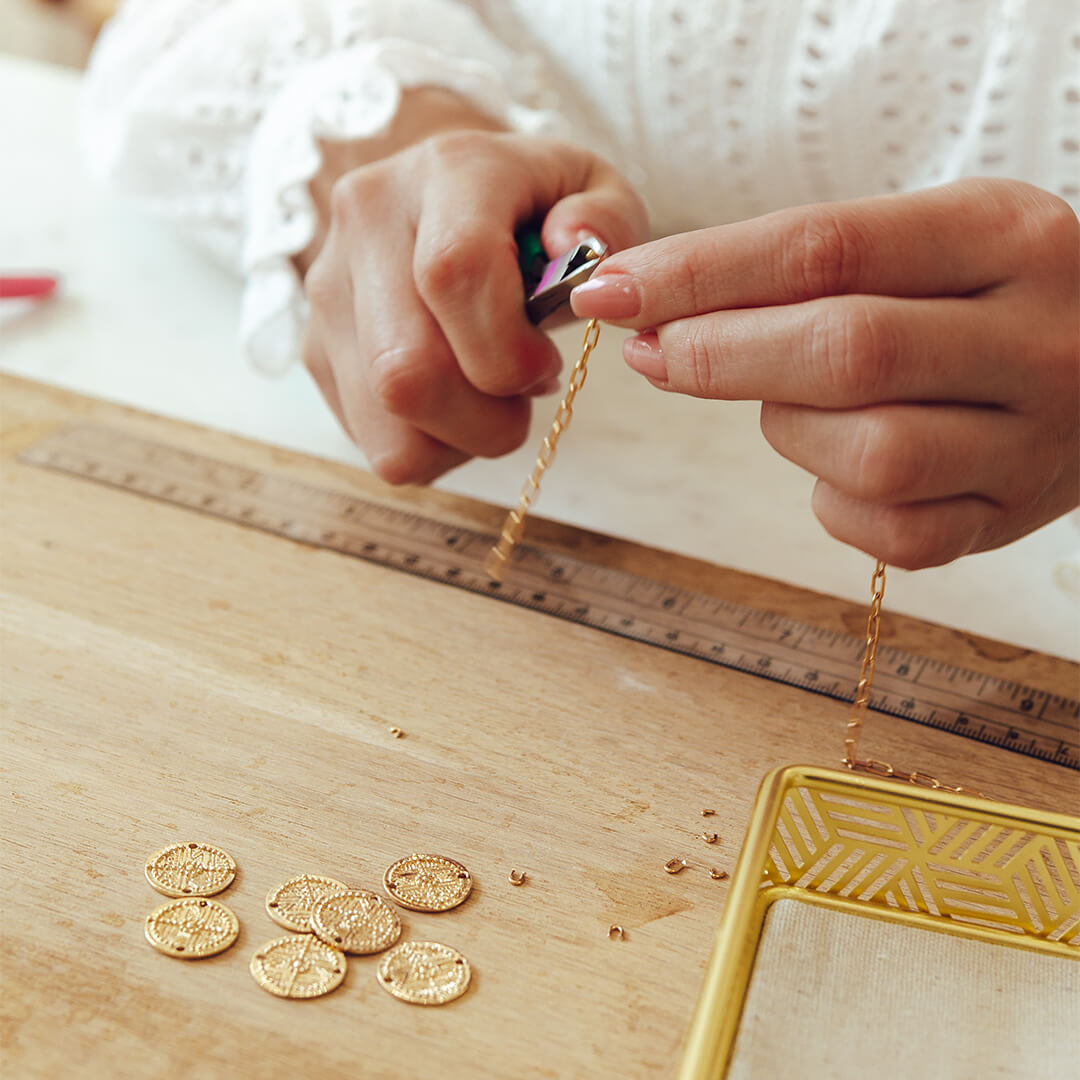 step 5
Mounting
This step is carried out in our Geneva workshop. It is here that chains and medallions come to life in necklaces, bracelets, and jewels adorned with their most beautiful stones.
step 6
Quality control
This is one of the last steps, it is here that we finally discover the long-awaited result. Each piece is checked one by one so that it can withstand your daily life and the tests of time. This step is carried out in our Geneva workshop.